Ever since I have moved out of my parents' house, my diet has consisted of junk food and trips to restaurants. I've tried multiple times to change that, but to no avail. With time, I came to realize that eating healthy is actually a complex habit to acquire if you haven't developed it at a young age. I concluded that I needed to start simpler and train myself to eat healthy food instead of hamburgers, club sandwiches and pizzas. After looking at various meal delivery services, I ended up choosing WeCook (formerly known as Nutrition Fit Plus), which I will review in this article.
How does WeCook's meal delivery service work?
WeCook is a subscription-based service. In other words, you sign up to receive every week a given number of ready-to-eat meals. You can order 6, 9, 14 or 22 to 30 meals and you are allowed to skip one or several weeks and to unsubscribe at any time. You can customize whether your meals have 100g or 200g of meat, which corresponds to their small and regular portions. Shipping is done throughout Quebec and Ontario at no extra cost.
At this point, one meal will cost you from $10.75 to $14.55, but there's a "catch." You see, each week, you will be presented with a menu composed of 14 different meals, but six of them will be marked as "premium." That is, you will have to pay an extra $1.50 to $5 for each of those meals you would like to order. They are pricier because they usually contain fish or fancier meats such as lamb or duck.
On their website, the company boasts a wide selection of meal options with a database of over 500 recipes to choose from for their weekly menus. However, while the meals do have a certain diversity, they are centered around a few patterns you will quickly notice. Most recipes have a main dish consisting of meat and a side dish consisting of vegetables and rice, quinoa, potatoes or pasta. The meat usually comes with sauce or dressing. Often, you can customize your side dish; sometimes, you cannot. You have to pay $1 extra if you want vegetables only.
Each meal is packaged in its own plastic container and you will receive them, surrounded by ice packs, in a big green box. The ice packs can be ripped apart and safely poured into the kitchen's drain. The meals last up to 7 days in the fridge. They all have their nutritional values displayed on WeCook's website.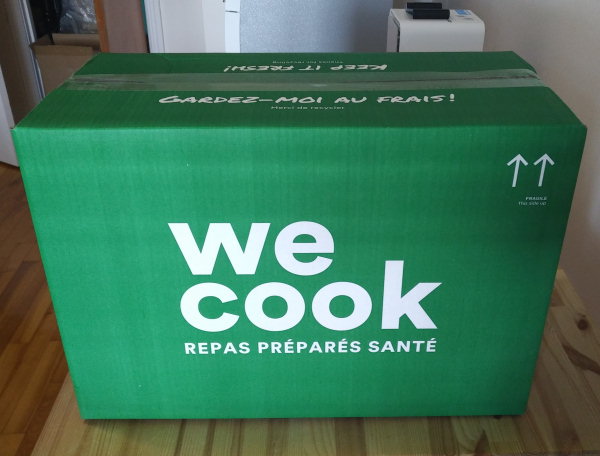 What I like about WeCook's ready-to-eat meals
I appreciate that the meals are fully prepared. I discarded meal prep delivery services like HelloFresh or GoodFood because I didn't want to cook or to wash dishes – just eat. Indeed, you only have to remove the plastic film from the meal's container and heat it three minutes in the microwave. This is great since my current focus is to accustom myself to healthy food after years of preferring their sugar and fat-loaded counterparts. The company makes this easy by manufacturing tasty meals and I was especially surprised by their salads.
I also love WeCook because of their generous portion sizes! A regular-sized meal from them will contain 600 to 900 calories, whereas a meal from their competitors will contain, for a similar price, only 400 to 500 calories. This made WeCook a no-brainer for me as I was looking to eat better, not less. That being said, if you are trying to limit your caloric intake, you can opt for their small-sized meals.
Finally, I like that WeCook offers nutritious meals that leave me full for a long time without causing me any brain fog – unlike restaurant or junk food. As a result, I've lost 10 pounds and I've been more productive at work. Despite the patterns in the recipes, there is enough variety so that I don't get bored with the food.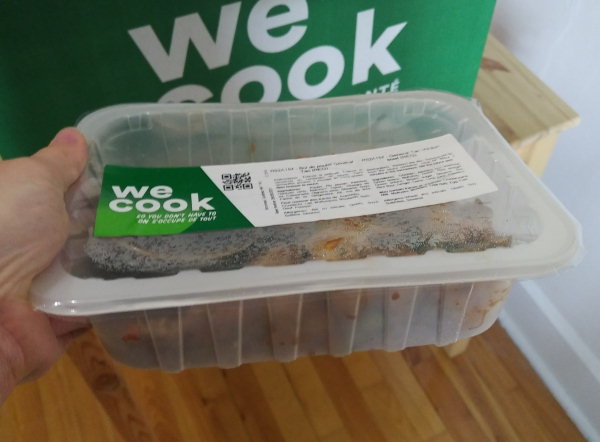 What I don't like about WeCook's prepared meals
So far, I have not been impressed by WeCook's vegetarian options. I must admit I'm not a big fan of vegetarian meals to begin with, but the ones I tried out were bland, at best, and unappetizing at worst. They negatively stand out from their otherwise consistently delicious meals. Thankfully, only one or two of their 14 weekly meals are vegetarian.
My other complaints are:
I don't like that the nutritional values of the meals are only available online. I would find it more convenient if they were printed on their plastic container too.
The ice packs are a mess to empty as they don't contain water, but a sort of slush.
The delivery company on which WeCook relies leave much to be desired. They tend to deliver my food late in the evening (8-9 PM) and they even completely missed the delivery date once. Plus, they often don't ring the bell when they deposit the meals at my doorstep. Sure, the ice is supposed to keep them cool, but hey, it's food – ring the bell!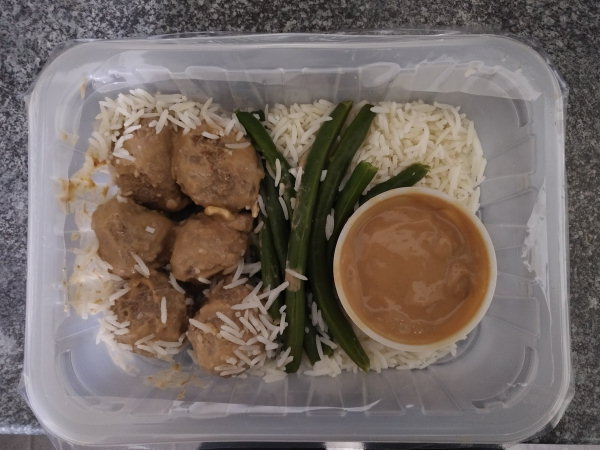 My mixed feelings regarding the cost of WeCook's meals
Ultimately, I must address the subject of pricing. Like all meal delivery services, WeCook is rather expensive, but keep in mind that you are paying them to do recipe hunting, grocery shopping and cooking for you. In this light, I would argue that you are getting a good bang for your buck: the meals can be eaten straight out of their container, leaving you with very little dishes to wash, and the portion size is humongous!
So, what's the problem? Well, in a bid to entice new customers, WeCook isn't fully transparent about their pricing. They offer you discounts in such a way that you aren't too sure what their regular prices are, and by the time you find out, you realize that you also have to pay extra for their so-called premium meals. This lack of transparency isn't unique to WeCook – I noticed it in most meal delivery services –, but it does cast a negative light on the industry as a whole. This is a shame, because if you have the disposable income, WeCook is a quality choice.
Alongside their meal plans, WeCook allows you to buy snacks such as cookies, brownies and protein bars. They tempt you with a discount on your first order, but the regular prices are so high ($13.95 for four cookies – plus taxes!) that I didn't even bother trying them out. They also sell vacuum-sealed meats: the prices seem more reasonable ($25 to $30 per kg), but I haven't ordered them yet.
FAQ
How much does WeCook cost?
A standard meal will cost you from $10.75 to $14.55; a premium meal, from $12.25 to $19.55. Each weekly menu contains 14 meals: 8 are standard, 6 are premium. You need to order at least 6 meals per week. All in all, I'm currently paying $121.95 per week for 9 standard meals with 200g of meat.
Is WeCook legit?
Yes, WeCook is a legitimate company and they are plenty of reviews on websites like Trustpilot that prove it. At first, I didn't like how they "force" you into a subscription plan, but I was able to skip a week here and there without any worry and I haven't heard of any disgruntled customers who were unable to fully unsubscribe from WeCook.
Is WeCook healthy?
While I'm not a nutritionist, I can say that WeCook is healthy because their recipes fulfill me for a long time and don't cause me any brain fog. This is unlike restaurant or junk food. As a result, I've lost 10 pounds so far and I've been more productive at work.
Is WeCook worth it?
WeCook is worth it if you have the disposable income. It allows you to save time, eliminate food waste and reduce the number of trips to the grocery store to buy fresh ingredients. Moreover, the food is delicious and you barely have any dishes to wash.